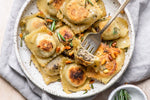 Chipotle Aioli Cheeseburger
A delicious cheeseburger topped with avocado, pickled red onions, arugula, and a chipotle aioli. This burger is bursting with big flavor and is a healthy, plant-based option perfect for summertime grilling. 
PLANT-BASED BURGERS WITH CHIPOTLE AIOLI 
Creamy Scallion Potato Pierogies
Get ready to fall in love with the rich and comforting Creamy Scallion Potato Pierogies, filled with a luscious mashed potato and scallion filling, enveloped in a tender and slightly chewy dough that will melt in your mouth with every bite.
CREAMY SCALLION POTATO PIEROGIE
Summer Pasta Salad With Vegan Goat Cheese 
+
Hearty and packed with flavorful veggies and creamy goat cheese, this recipe is perfect for a simple weeknight dinner or side dish for a BBQ.
SUMMER PASTA SALAD WITH GOAT CHEESE
Creamy Zucchini & Spinach Lasagna Pasta
Loading up on ALL the fresh veggies with zucchini, spinach, shallots, parsley, thyme and sage. Paired with our Herb Garlic Soft French-Style Cheese, this pasta dish is a comforting cheesy recipe that's also healthy! 
CREAMY ZUCCHINI & SPINACH LASAGNA PASTA
Herbed Vegan Goat Cheese Butternut Squash Bruschetta
This twist on classic bruschetta features butternut squash paired with our creamy dairy-free Garlic & Basil Goat Cheese for a flavorful appetizer or side dish.
HERBED VEGAN GOAT CHEESE BUTTERNUT SQUASH BRUSCHETTA
Roasted Vegetable Bowls With Sunflower Seed Pesto
This bowl is full of whole nutrient-rich foods like quinoa and kale, paired with creamy sunflower seed pesto and Treeline's Soft French-Style Cheese for a meal that is as satisfying as it is nourishing. 
ROASTED VEGETABLE BOWLS WITH SUNFLOWER SEED PESTO
Creamy Broccoli Spinach Cheese Soup
This hearty and warming soup is a perfect way to enjoy a healthy dinner when you're craving comfort food. It's packed with spinach and broccoli and blended into a naturally creamy consistency due to potatoes and the addition of Treeline's Sea Salt & Pepper Soft French-Style Cheese. It's a nutrient-rich and delicious dinner solution!
CREAMY BROCCOLI SPINACH CHEESE SOUP
Chipotle Serrano Cream Baked Mini Gnocchi
Indulge in the creamy and spicy flavors of Chipotle Serrano Cream Baked Mini Gnocchi, with pillowy soft dumplings baked in a decadent sauce and topped off with a crispy golden crust.
CHIPOTLE SERRANO CREAM BAKED MINI GNOCCHI
Mediterranean Flatbread Pizza
This unexpected Mediterranean-style pizza combines sweet jammy apricots with savory veggies and creamy soft-french style cheese for a delightful combination of flavors and textures. 
Jackfruit Carnitas Burrito Bowl With Creamy Chipotle Sauce
Filled with jackfruit carnitas, beans and ALL the toppings, the star of this very tasty show is hands down the Creamy Chipotle Sauce. It's smoky, spicy, creamy and just a little bit tangy ... you'll want to start topping everything with it! 
JACKFRUIT CARNITAS BURRITO BOWL WITH CREAMY CHIPOTLE SAUCE
Viral Feta Pasta
This quick and tasty pasta became trendy on Tik Tok using feta cheese, but no need to sacrifice on flavor (or trends) to have a plant-based diet! 
"FETA" PASTA RECIPE - TREELINE'S TAKE ON THIS TIK TOK TREND!
Carrot Lox Tortilla Wraps
This wrap is easy to put together and full of flavor - suitable for a lunch on the go or dinner for the whole family!
Creamy Broccoli Salad With Cranberries & Hazelnuts
Crisp broccoli, tart cranberries, toasted hazelnuts & the best creamy dressing make this salad a tasty and satisfying meal or side dish. 
CREAMY BROCCOLI SALAD WITH CRANBERRIES & HAZELNUTS
Herb Garlic Mushroom Ravioli
This totally plant-based cheesy mushroom ravioli recipe is perfect to warm the belly and soul. This recipe calls for our French-Style Herb Garlic Cheese - which adds creamy texture and herb garlic flavor in one.
Summer Bounty Snack Platter
A vegan cheese board, loaded with bountiful produce and creamy dips, is a great addition to any meal. Include it as a tasty appetizer or side dish! 
These 15 vegan dinner recipes featuring Treeline vegan cheese are sure to delight adults and kids, and provide nutritious and delicious meals that are high in protein and low in saturated fat. 

To shop delicious vegan cheese that is good for you, animals, and the planet, visit Treeline Cheese.