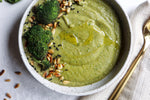 This hearty and warming soup is a perfect way to enjoy a healthy dinner when you're craving comfort food on a cold winter night. It's packed with spinach and broccoli and blended into a naturally creamy consistency due to potatoes and the addition of Treeline's Sea Salt & Pepper Soft French-Style Cheese. It's a nutrient-rich and delicious dinner solution! 
Ingredients 
     

2 tbsp avocado oil 

     

1 medium sized shallot, minced

     

7 cloves garlic, minced

     

1 large russet potato, cubed uniformly

     

6 c. low sodium vegetable stock

     

4 c. broccoli florets + stems divided

     

3 tbsp nutritional yeast

     

1 tsp paprika

     

½ tsp black pepper

     

1 tsp sea salt

     

¼ cup pine nuts roasted

     

3 c. baby spinach

     

1 tsp black & white sesame seeds
SHOP THE PRODUCT
Instructions 
     

Heat up olive oil in a 5.5 qt dutch oven

     

Add shallot to the pan and cook until translucent

     

Add garlic to pan and cook until fragrant

     

Add potato and gently fry for about 10 min on high heat, stirring frequently.  If the garlic, shallot & potato cubes start sticking , add a cup of broth to deglaze.

     

Add 3.5 c. broccoli and the rest of the stock to the pan and bring everything to boil then simmer 10-15 min until all the vegetables are fork tender

     

In the meantime, roast pine nuts in a non-stick pan on high heat until golden and air fry
 ½ c. broccoli florets at 390 for 5 min.  If you don't have an air fryer – pan fry is fine, this is just for the garnish and totally optional
     

Once veggies are soft, turn off the stove and use an immersion blender (or to a high speed blender) to puree the soup

     

Stir in spinach and allow it to wilt in the hot soup and then blend again until smooth

     

Add salt, pepper, paprika and nutritional yeast and stir

     

Add a full container of Treeline Sea Salt cheese to the soup and stir until combined and then blend one more time until everything is perfectly smooth and creamy

      

Garnish with roasted pine nuts, sesame seeds, a drizzle of olive oil and air-fried broccoli
 Enjoy!