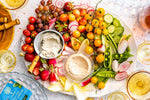 Want to learn how to make a colorful plant-based platter for your summer gathering? A vegan cheese board, loaded with bountiful produce, is a great way to celebrate the season, while savoring all the flavors it has to offer! Enjoy these tips from recipe developer and stylist
Monique Sourinho. 
Choose Your Player
First things first: choose your vegan cheeses! These are the stars of the show! Lately I can't stop diving into 

Treeline's Dairy-Free Goat Cheese

. It's just tangy enough, while being delectably creamy and silky, and perfectly salted. Their "goat cheese" comes in original, blueberry, or garlic & basil. For this board I used two types of Dairy-Free Treeline "Cheese": Blueberry "Goat Cheese" and Chipotle-Serrano Pepper "Soft French-Style Cheese". Though admittedly, you can't go wrong with any!
Select Your Surface
Whether you prefer a board or a serving platter, the vehicle you choose is the first step to crafting a gorgeous feast for the eyes. Try irregular-shaped plates, angular cutting boards, or vibrant ceramics. Patterns are fun too! No matter which you choose, each layer is a chance to add personal flare. So even when everything gets gobbled up, no part of your platter misses a visual beat!
Eat the Rainbow
Not only is eating colorful produce a sight to see, it is full of nutritional value. Embrace the summer season and all its bountiful offerings by surrounding your vegan cheeses with all the colors. Sliced melons, slivered carrots, florets of cauliflower, or cherry tomatoes on the vine are all great options! The possibilities and pairings are limitless, and oh-so-delicious!
Embrace the Season
Speaking of options, since summer has a lot to offer, choosing peak in-season produce like native strawberries in June, or juicy cherries into August, will ensure optimum freshness and taste - which will surely leave a lasting impression even into the colder months to come.
Tip: As an extra nod to Summer, a fun way to play up your vegan cheese board is to try a gradient of colors. Aim for sunset transitions like yellow or orange, into pink or red. That said, there is something so fun about making the most of a season!
Serve Extras On the Side
Have you ever noticed how quickly platters turn disheveled? No worries here! Play with pairings by serving alongside in colorful plates or small bowls. Not only does it add to visual appeal, but it offers a quick way to discreatly restock the main attraction at any given moment!
Recipe for Success
I hope these tips help you create your own ideal vegan cheese board! However, if you want to recreate this exact vegan cheese board, here is a list of everything you need to build your own vegan cheese board  with Treeline Goat Cheeses. 
SERVES: 8-10
PREP TIME: 15-20 MINUTES

INGREDIENTS:
1/2 cup grapes
1 cup French radishes, halved or quartered
2 Endives, core removed
2 bunches Cherry tomatoes on the vine
1/4 cup Strawberries
1 small Cucumber, sliced
1/4 cup Cherries
1/4 cup Sugar snap peas
Crackers, on the side
METHOD:
First, smooth the vegan cheeses into ramekins (or serve as is), then place on your surface or board.
Fill in the platter with larger items such as sugar snap peas, grapes, and tomatoes on the vine. Then, add smaller pieces of produce like radishes, cherries, and cucumber slices. Tuck in longer items such as endive leaves to help give visual direction. Layer as needed.
Afterwards, serve any extras alongside, like crackers. Finally, share and enjoy!