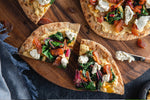 This unexpected Mediterranean-style pizza combines sweet jammy apricots with savory veggies and creamy soft-french style cheese for a delightful combination of flavors and textures. From our friends at Purple Carrot.
Ingredients
2 garlic cloves
4 oz rainbow Swiss chard
2 oz dried apricots
13.4 oz chickpeas
1 lemon
1 tsp dried oregano
2 multigrain flatbreads
2 oz Treeline Sea Salt & Pepper Soft French-Style Cheese
3 tbsp + 2 tsp (6 tbsp + 4 tsp) olive oil*
Salt and pepper*
Instructions
1 Prepare the produce
Preheat the oven to 425°F. Peel and mince the garlic. Thinly slice the Swiss chard, keeping stems and leaves separate. Roughly chop the dried apricots. Drain and rinse the chickpeas, and pat dry. TIP: The oven will be used to crisp the flatbreads. If you have a toaster oven, you can use that instead.
2 Make the oregano hummus
Halve and juice the lemon(s). Add minced garlic, chickpeas, lemon juice, oregano, 3 tbsp (6 tbsp) olive oil, and a pinch of salt and pepper to a food processor. Blend the oregano hummus until smooth.
3 Toast the flatbread
Place flatbreads directly on the oven rack and bake until slightly crisp, 3 to 5 minutes.
4 Sauté the Swiss chard
Heat 2 tsp (4 tsp) olive oil in a large nonstick skillet over medium-high heat. Add sliced Swiss chard stems and a pinch of salt and pepper. Cook until tender, 2 to 3 minutes. Add sliced Swiss chard leaves and cook until wilted, another 1 to 2 minutes.
5 Serve
Spread oregano hummus on the toasted flatbreads. Top with sautéed Swiss chard and chopped apricots. Dollop with cashew cheese. Tuck in!