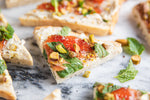 We had to try our hand at the latest Tik Tok food trend: Pasta Chips! If you didn't know, now you know ... pasta chips are baked or fried pasta (we used farfalle) that crunches and dips just like a chip! The result is a blend of our two favorite things: the comfort-food satisfaction of pasta with the snackability of chips and dip!  
This Berry Cheesecake Parfait recipe offers all the decadence of a cheesecake but in lighter layers and a travel-ready package, perfect for a picnic or breakfast treat on-the-go. 
Summer calls for popsicles and this simple recipe is perfect for whipping up a cooling treat that kids and adults alike will love. Made with Treeline's Plain Cream Cheese, you can enjoy these decadent Peaches & Cream Popsicles, no dairy needed!
This Cheesy Chipotle Bean Dip recipe is perfect for entertaining, especially when paired with a margarita! 
Create this spooky snackboard for a perfect plant-based Halloween party, or take inspiration for any other holiday!
These savory muffins, reminiscent of bagels (but easier to digest!), have the surprise of a burst of Treeline Chive and Onion Cashew Cream Cheese in the middle. They're a fantastic accompaniment with almost any type of soup. 
We created this decadent dip using two of our delicious cheeses. It's the perfect indulgent snack for a lazy weekend spent rooting for your favorite sports team!
This perfect game day recipe was created using our French-Style Scallion cheese. Enjoy it with your favorite bread or all on its own! 
All the flavor, none of the fuss. This gourmet-tasting toast can be assembled in only five minutes from five simple ingredients. Perfect for a quick breakfast or afternoon snack!