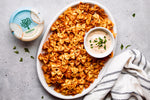 We had to try our hand at the latest Tik Tok food trend: Pasta Chips! If you didn't know, now you know ... pasta chips are baked or fried pasta (we used farfalle) that crunches and dips just like a chip! The result is a blend of our two favorite things: the comfort-food satisfaction of pasta with the snackability of chips and dip! 
This recipe was developed for Treeline by Hannah Daily. Have you tried it yet?!
Pasta Chips:
8 oz farfalle pasta

2 tbsp olive oil

1 tbsp nutritional yeast

1 tsp garlic powder

1 tsp Italian seasoning

½ tsp salt, to taste
Instructions:
Preheat oven to 375F.

Cook pasta al dente, according to package directions. Drain and toss with olive oil, nutritional yeast, garlic powder, Italian seasoning, and salt.

Line a baking sheet with parchment paper and spray with cooking oil. Add pasta in a single layer.

Bake, stirring occasionally, 20-24 minutes (depending on oven strength) until crispy and golden brown. They will harden more as they cool a bit.
Vegan Alfredo Dipping Sauce:
4 oz Treeline Plain Cashew Cream Cheese

⅓ cup vegan parmesan, shredded

1 tsp garlic powder

A few cracks freshly ground pepper, to taste

¼ cup unflavored, unsweetened non-dairy milk
Instructions:
Mix all ingredients in a microwave safe bowl. Microwave, stirring every 15 seconds, until hot and the parmesan has melted.
Dip the chips and dig in!