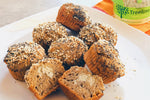 These savory muffins, reminiscent of bagels (but easier to digest!), have the surprise of a burst of Treeline Chive and Onion Cream Cheese in the middle. Theyre a fantastic accompaniment with almost any type of soup. Recipe by Nava Atlas, TheVeganAtlas.com.
Ingredients
2 1/4 cups whole wheat pastry flour or light spelt flour, or a combination

2 teaspoons baking powder 

1 teaspoon salt 

1 cup applesauce

1 cup plain plant-based milk, or as needed

1/4 cup olive oil

1 tablespoon poppy seeds

12 rounded teaspoons Treeline Chive and Onion cream cheese

Poppy seeds for topping

Sesame seeds for topping, optional
Shop the Product 
Instructions
Preheat the oven to 350º F

In a mixing bowl, combine the flour, baking powder, and salt. Stir together well.

Make a well in the center of the flour mixture. Pour in the applesauce, plant-based milk, olive oil, and poppy seeds. Stir until well combined, adding a bit more plant-based milk if needed to make a smooth, slightly stiff batter. 

Spoon 2 tablespoons of the batter into 12 paper-lined muffin tins. Place a teaspoon of vegan cream cheese in the center of each. Spoon the remaining batter into the muffin tins, covering the cream cheese completely. Top with a sprinkling of extra poppy seeds, plus some sesame seeds for a nice touch.

Bake for 25 to 30 minutes, or until the tops are golden. Remove the muffins from the tins as soon as they're cool enough to handle, then cool on a rack or a plate.
**Variation: Skip the poppy and sesame seeds and use Everything Bagel seasoning instead.