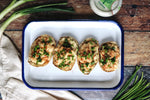 A comfort food classic, but make it plant-based. We use Treeline's Chive & Onion Cashew Cream Cheese to whip up these steamy and cheesy twice-baked potatoes. This easy recipe is packed with flavor and perfect for a warming winter dinner. Try making them today! 
Ingredients
3 Russet potatoes, scrubbed

1/2 cup plant-based sour cream

3 tablespoons plant-based butter, melted

2 scallions, white and green parts chopped

1 teaspoon salt

1 teaspoon black pepper

1 flax egg or egg substitute

1/4 cup cashew milk

1 Tbsp. nutritional yeast

Chives & Paprika to garnish
Shop the Product 
Instructions
Poke the potatoes with a fork (a few times for each potato so they don't explode in the oven!) and bake at 400 degrees for 1 hour, or until tender.
Once cool enough to handle, cut the potatoes in half lengthwise, spoon out the inside and place in a large mixing bowl. 
Set skins in a large baking dish or sheet pan
In the large bowl with the potatoes, add Treeline Chive & Onion Cream Cheese, sour cream, butter, scallions, flax egg, salt, pepper, milk and nutritional yeast to the potatoes and mash until combined and fluffy.  For an extra creamy consistency beat with a hand mixer on low adding more milk if needed, until velvety smooth.  
Spoon mixture into skins. Bake for 20 min at 350 or until tops are golden.
Sprinkle with paprika and top with chives for garnish.