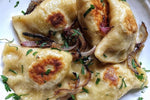 Holy pierogis! Andrea of @sweet.in.nature created this plant-based pierogis recipe that we HAVE to try at home. This is what she shared ...
My mom is Polish and these always showed up on the table every holiday. I remember she would spend the entire day making them, filling the dough with farmer's cheese, potatoes or sauerkraut, then boiling them for a few minutes and adding them to a pile on a huge platter ... and we would have enough to last a week! 
For my 100% plant-based version I used a simple dough and then filled them with creamy mashed potatoes and Treeline Scallion Soft French-Style Cheese. If you haven't tried these yet I highly suggest it! 
Ingredients
Shop the Product 
Instructions
Start by preparing the filling. Boil the potatoes till fork tender, drain them, but reserve a little of the cooking water to help with moisture when mashing them.
Add Treeline French-style cheese and a pinch of salt and pepper. Use a potato masher or electric mixer to mash until most lumps are gone and the mashed potatoes are creamy. Let cool.
Next, prepare the dough by mixing 1 cup water + the olive oil, flour, and 1 tsp salt together.
When the dough forms a ball, kneed on a floured surface, sprinkling more flour so that the dough is smooth and not sticky.
Let the dough rest on the floured surface for about 10 minutes. This will make it easier to roll out.
With a rolling pin, roll the dough out to approximately 1/8 of an inch thick.
Use a round cookie cutter or top of a glass (about 3" diameter) to cut circles in the dough.
Spoon a bit of the potato and Treeline cheese filling into half of the cut out circle. Fold over to create a half moon shape.
Crimp the edges well with a fork so none of the filling gets loose during the cooking process.
When all of the pierogies are filled it's time to boil them! Bring a pot of water to a low boil. Add a few pierogies at a time and cook for 2-3 minutes. They will rise to the top when done so keep a close eye on them! If they over cook they will become gummy and start to fall apart. Remove them with a slotted spoon, let drip and then dry on a cooking rack or plate.
When all the pierogies are cooked they can be eaten them as is or stored in the fridge for later. They can also be sautéed in a skillet over medium heat for a few minutes on each side using oil or plant-based butter so that they don't stick.
Best served with sautéed onion or kale and a side of sauerkraut. Enjoy!