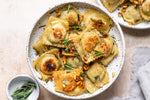 Nothing warms the belly and soul quite like homemade pasta. This totally plant-based cheesy mushroom ravioli recipe from Eva Agha from @thecuriouschickpea  is perfect to make for National Ravioli Day (on March 20th) or really, any day of the year.
This recipe calls for our French-Style Herb Garlic Cheese - which adds creamy texture and herb garlic flavor in one. Try it out and let us know what you think! 
Makes: 4 dozen 2-inch raviolis
Prep Time: 35 minutes
Cooking Time: 30 minutes
Ingredients:
Pasta Dough
3 cups all purpose flour

2 tsp salt

1 cup water

¼ cup extra virgin olive oil
Filling
1 tbsp olive oil

8oz baby bella mushrooms, sliced

5oz shiitake mushrooms, sliced

4 cloves garlic, minced

1 tbsp chopped fresh rosemary

1 tsp chopped fresh thyme

½ tsp salt, or to taste

Pepper to taste

1 6 oz tub Treeline French-Style Herb Garlic Cheese
To Cook
2 tbsp olive oil

¼ cup pine nuts

1 tbsp fresh rosemary
Shop the Product 
Instructions
Combine all of the ingredients for the pasta dough and knead together until it becomes a smooth dough, about 4-5 minutes. Add flour if needed to make a barely tacky dough. Cover in plastic wrap and set aside for 30 minutes.

Heat the tablespoon of oil in large skillet over medium heat, then add the mushrooms and garlic. Let cook for 7-10 minutes, or until the water has cooked out of the mushrooms and they are starting to caramelize. Add the fresh herbs and salt and pepper to taste and let cook another 2-4 minutes.

Transfer to a food processor and add the Treeline cheese. Process until the mixture is pâté like in texture.

Divide the dough into 4 portions and roll out one at a time, leaving the remaining dough covered so as not to dry out. Roll the dough until it is very thin, if using a pasta roller machine, let it go to 4 or 5 (may be roller dependent).

Spray a ravioli mold with oil to prevent sticking, then gently lay the dough overtop the mold, press the dough to depress it into each cup. If not using a mold then set the rolled dough onto a flour dusted countertop. Place 1 teaspoon of filling into the center of each ravioli (measure and leave space between each one if not using a mold). Cover with a second sheet of dough and gently press out all the air. If using a mold, use a rolling pin to seal and cut the ravioli. Otherwise, press along the edges to seal the dough and use a ravioli stamp or kitchen scissors to cut the dough. Collect scraps to re-roll.

Place shaped ravioli in a single layer on a parchment lined tray and roll out and fill the remaining ravioli. Ravioli can be cooked right away or stored in a single layer between sheets of parchment paper in the fridge for a couple of days, or longer in the freezer (if cooking from frozen, they will need additional time to cook).

Bring a large pot of salted water to a boil. Add the ravioli, cooking in batches to not over crowd the pan. Cook the ravioli until it floats to the top, then cook another 1 minute, about 3-4 minutes in total.

Heat some olive oil in a large skillet over medium heat, then add the cooked ravioli. Toast the ravioli in the skillet, turning once or twice, for about 5 minutes or until the ravioli is lightly toasted. Add the pine nuts and rosemary and cook another couple of minutes. Add salt and pepper to taste and enjoy!