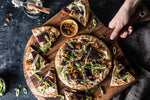 This delicious and healthy beet and "bacon" flatbread recipes comes from plant-based meal box service, Purple Carrot. 
Ingredients:
1 red beet
1 tsp gluten-free tamari
1 tbsp maple syrup
1 tsp liquid smoke
½ cup toasted coconut
2 multigrain flatbreads
1 garlic clove
2 scallions
2 tsp (4 tsp) vegetable oil
1 tbsp (2 tbsp) olive oil
Salt and pepper
Shop the Product
Instructions
1. Roast the beets
Preheat the oven to 425°F. Peel the beet(s) and cut into wedges, each about ¼ inch thick. Add to a baking sheet and toss with 2 tsp (4 tsp) vegetable oil and a pinch of salt and pepper. Roast until fork-tender, 20 to 25 minutes.
Add the tamari, maple syrup, just ¼ tsp (½ tsp) liquid smoke, and a pinch of pepper to a small bowl and whisk until combined.
3.  Make the coconut bacon
Heat a large nonstick skillet over low heat. Add the toasted coconut and sauce, and toss to coat. Cook until slightly charred, stirring constantly to avoid burning, 5 to 7 minutes.
4. Prepare the herb cashew cheese
Toast the flatbreads in the oven for 3 to 5 minutes. Peel and mince the garlic. Add the minced garlic, cashew cheese, and 1 tbsp (2 tbsp) olive oil to a medium bowl and blend until smooth.
Thinly slice the scallions. Spread the herb cashew cheese on the toasted flatbreads. Top with roasted beets and coconut bacon. Sprinkle with sliced scallions and cut into wedges to serve. Enjoy!