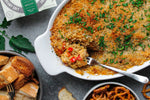 This perfect game day recipe was created by Ashley from @eat_figs_not_pigs using our French-Style Scallion cheese. 
Ingredients:
2 14-oz cans hearts of palm, preferably sustainable, drained and rinsed
2 6-oz tubs Treeline French-Style Scallion

1 cup vegan cheddar shreds

1/2 cup vegan mayonnaise

1/2 cup minced fresh chives, divided

2 tablespoons Old Bay seasoning

1 tablespoon Louisiana hot sauce
1 ½ teaspoons Cajun seasoning
2 teaspoons avocado oil
1 red bell pepper, finely diced (about 1 cup)
½ small onion, finely diced (about ½ cup)
2 stalks celery, diced (about ¼ cup)
6 cloves garlic, minced
½ cup vegan parmesan cheese
1 cup panko breadcrumbs
¼ cup vegan butter, melted
Crackers, pretzels, bread, and veggies, for serving
Instructions:
Preheat oven to 400° degrees F.
Mash the hearts of palm with a potato masher in a large bowl.
Fold in Treeline French-Style Scallion Cheese, cheddar, mayonnaise and ¼ cup chives.
Season with the Old Bay, hot sauce and Cajun seasoning, mixing to combine all ingredients thoroughly. Set Aside.
Heat the avocado oil in a medium skillet over medium heat. Once the oil is hot, add the bell pepper, onion and celery, and sauté, stirring frequently, until the vegetables start to just sweat, 6 to 7 minutes.
Add the garlic and cook another 1 to 2 minutes.
Combine the sautéed vegetables with the hearts of palm mixture in the large bowl, tossing to incorporate all the ingredients.
Transfer the dip to a 9x5-inch baking dish and sprinkle the top with the vegan parmesan, then the panko breadcrumbs.
Pour the melted butter over the breadcrumbs and bake in the preheated oven, uncovered, until the breadcrumbs are golden-brown and crispy, and the cheese is starting to bubble, 30 to 40 minutes.
Remove from the oven and let cool for 5 minutes before serving.
Finish the dip with remaining ¼ cup of chives and serve immediately with crackers, pretzels, bread, and additional veggies of choice. Can be served hot or cold!
SHOP THE PRODUCT