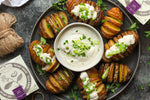 Creamy, crunchy, and savory, this must-have fall recipe was created by Ashley behind @eat_figs_not_pigs.
Yield: 8 servings
Prep Time: 10 minutes
Cook Time: 45 minutes
Ingredients:
8 medium russet potatoes, scrubbed
8 tablespoons (1 stick) non-dairy butter, softened
2 tablespoons fresh oregano or parsley, minced
1 tablespoon extra-virgin olive oil
6 cloves garlic, minced (about 3 tablespoons)
1 ¼ cups unsweetened non-dairy milk
2 (6-ounce) packages Treeline Garlic-Herb French-Style Cheese, at room temperature
¼ cup minced green onion or chives, divided
1 teaspoon kosher salt
1 teaspoon ground pepper
PREPARATION
Preheat oven to 425° degrees F.
Place a potato between the handles of 2 wooden spoons or 2 chopsticks. Using a sharp knife, slice the potato into thin slices, about ½ - inch thick, leaving ¼ - inch at the bottom of the potato unsliced; the handles of the spoon or chopsticks will prevent you from slicing all the way through. Repeat with the remaining potatoes.
Stir the butter and parsley together in a bowl until well combined. Place the potatoes on a parchment paper lined baking tray and brush the butter on each of the potatoes, making sure to gently get into each slice. Bake the potatoes in the preheated oven for 35 to 45 minutes, until they're tender and turn golden-brown and crispy.
Meanwhile, heat the oil in a medium saucepan over medium heat. Once the oil is hot, add the garlic and cook, stirring often, until fragrant, 2 to 3 minutes. Pour in the milk, room temperature Herb Garlic cheese, 2 tablespoons chives, salt and pepper, and whisk until combined and smooth. Taste and adjust salt and pepper if necessary.
Remove potatoes from the oven and pour half of the Herb and Chive 'Cheese' Sauce over the crispy potatoes and garnish each potato with the remaining chives or green onions. Serve with a side of the extra cheese sauce and enjoy!
SHOP THE PRODUCT