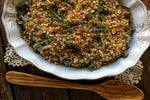 Made in partnership with Andrea from sweet.in.nature , this plant-based take on a holiday classic will be a hit at your Thanksgiving table!
Ingredients
2 lbs fresh green beans (rinsed and ends trimmed)
8 oz. of mushrooms, diced
1 large onion, diced (the other half will be used for your topping)
2 garlic cloves, grated
1 cup plant-based milk
1 cup vegetable broth 
1 6oz tub Treeline Herb Garlic French-Style Cheese
1 cup bread crumbs
1/2 tsp salt
3 Tbs olive oil
More salt and pepper to taste
Instructions
Blanch the green beans by adding them to a pot of boiling water for 5 minutes, strain, then submerge them in an ice bath to retain their bright green color.
Prepare the cheesy mushroom soup:
Heat up a sauté pan over medium heat, add a drizzle of oil. Add diced mushroom and 1/2 the diced onion. Grate in the garlic. Add a pinch of salt and cracked black pepper. Let this cook down for about 3-5 minutes and stir occasionally. Add in the plant based milk, vegetable broth and Treeline Herb Garlic cheese. Incorporate the liquid into the cheese as it starts to melt. Let everything heat up and come together in a few minutes as you mix. Let simmer for a minute and then remove from heat. 
Prepare the crunchy onion topping:
Combine other half of diced onion, breadcrumbs, 1/2 tsp salt, 1 grated garlic clove, and 3 tbls olive oil. Incorporate well.

Assemble the casserole:
Add the green beans to a casserole dish and pour the mushroom soup mixture over them. Top the casserole with the crunchy onion topping. Bake at 350 degrees for about 30 minutes. To make this dish ahead of time, store the casserole in the fridge and add the crunchy onion topping before you are ready to bake. (Note: it will need a longer bake time if chilled)
SHOP THE PRODUCT