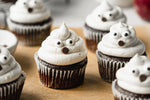 Wow kids and adults alike with these spooky plant-based ghost cupcakes made with Treeline's Plain Cashew Cream Cheese!
This recipe is from Danielle Davis of @daniliciousdishes. Enjoy! 
Cupcake Ingredients
3/4 cup unsweetened vanilla or plain almond milk, room temperature

2 teaspoons apple cider vinegar

1 tablespoon ground flaxseed + 3 tablespoons warm water
1 ½ cups gluten-free all-purpose flour blend, regular or whole wheat white flour work too
½ cup cocoa powder, shifted
1 tsp baking soda
2 teaspoons espresso powder
1/2 teaspoon salt
1 cup + 2 tablespoons pure cane sugar
½ cup liquid coconut or avocado oil
2 teaspoons vanilla
1/4 cup hot coffee or water
Cashew Cream Cheese Frosting Ingredients
1 8oz container Treeline Plain Cashew Cream Cheese, room temperature
1 stick (1/2 cup) plant-based butter, room temperature
3 1/2 cups powdered sugar, shifted
1 tsp. vanilla
Pinch of salt
Shop the Product 
Raspberry Filling
1/2 cup seedless raspberry jam
1 teaspoon water
Ghost Decoration
24-29 candy eyes
12-13 small chocolate chips
Cupcakes Instructions
Preheat the oven to 350 degrees. Line a muffin pan with liners. Lightly grease the liners (optional).
In a small liquid measuring cup or bowl, combine the almond milk and apple cider vinegar and let it sit for 2-3 minutes to create a vegan buttermilk.
In a small bowl, combine the flaxseed and 3 tablespoons warm water and allow it to sit for 2-3 minutes, or until it thickens slightly. This creates an egg replacement. 
In a large bowl, combine gluten-free flour, cocoa powder, baking soda, espresso powder, salt, and cane sugar and whisk until well-combined. 
Add in the almond milk/apple cider vinegar mixture, flaxseed egg, oil, and vanilla and whisk until almost fully combined. 
Finally, pour in the hot coffee and whisk until no lumps are present and the batter is smooth. Be careful not to over-mix. 
Divide the batter between 12-13 cupcake liners, filling a little over 1/2 way full. Bake for 22-25 minutes or until a toothpick or fork comes out clean. Allow to cool completely. 
Using a paring knife or bottom round part of a frosting tip, create a small hole in each cupcake for the filling.
For the raspberry filling, mix the raspberry jam and water and stir until smooth. Add filling in each cupcake cavity. 
Frosting Instructions
For the frosting, add the plant-based butter to a stand-mixer (or using a large bowl and a hand mixer). Mix until light and fluffy, 2-4 minutes. 
Add in the Treeline cashew plain cream cheese and beat for another 2-3 minutes or until light and fluffy and fully combined with the butter (scraping down the sides as necessary). 
Add in the vanilla and pinch salt. 
Finally, add in the powdered sugar in 3 increments, beating until smooth and creamy.  
Add frosting to a piping bag with a regular round tip or a ziplock bag with a corner cut off.  Top each cupcake with a dollop of frosting. 
To make the ghost face, add two eyes and one chocolate chip (flat-side facing out). 
Serve and enjoy your spooky treat!