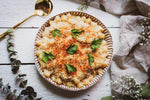 Ingredients
1 tub Chipotle Serrano Treeline Cheese
2-3 cups unsweetened regular plant-based milk
3 tbsp chipotle hot sauce
1 tbsp + 1 tsp black pepper
Salt to taste
1 tbsp + 1 tsp garlic powder
1 tbsp onion powder
1 tsp crushed red pepper
1/2 tsp cayenne pepper
2 tsp apple cider vinegar
1 package mini gnocchi
1/2 cup breadcrumbs
Flat leaf parsley
2 tbsp olive oil
Instructions
In a saucepan, add the chipotle serrano Treeline cheese, plant milk, hot sauce, 1 tbsp black pepper, salt to taste, 1 tbsp garlic powder, onion powder, crushed red pepper, cayenne pepper, and apple cider vinegar. Cook over medium low heat, whisking frequently until the cheese is melted. Adjust seasoning to taste, and amount of milk. You want this to be semi thick, about the consistency of alfredo. 
Cook your mini gnocchi in salted water until the float.
Mix your cooked gnocchi with your desired amount of sauce and transfer to an oven safe dish.
In a small bowl, mix together your breadcrumbs, olive oil, 1 tsp garlic powder, salt to taste, and 1 tsp black pepper. Mix well. Sprinkle over the top of the gnocchi.
Place under the broiler until the breadcrumbs are golden brown. Top with fresh flat leaf parsley for garnish & enjoy!