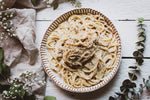 Ingredients 
1/8 cup freshly cracked black pepper (or more to taste) 
3/4 pound spaghetti
2-4 cups pasta water
Salt to taste
Vegan parmesan for garnish 
 Instructions
Put a pot of very well salted water on the stove and bring to a boil. Once boiling, add in your spaghetti.
In a deep skillet, add your Sea Salt & Pepper Soft French-Style Cheese, black pepper, and pasta water. Whisk until well combined over low heat. You want this to be semi thin, just enough to coat the back of a spoon.
Add your cooked pasta directly from the pot into the sauce and toss to combine. Add salt to taste if needed.
Transfer to a plate & top with more black pepper and parmesan cheese.
Enjoy!