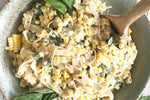 This delicious recipe came from Kaila at internationalappetite.com. As Kaila says, this dish is comfort in a bowl but also the perfect summery recipe.
Ingredients:
4 ears of corn charred, grilled, or boiled
3-4 tbsp Treeline® Herb Garlic French Style
1/2 tsp red pepper flakes
1 c water reserved from pasta water
1 whole lemon juiced
1/2 c chopped basil
1 tbsp minced garlic or 2 cloves chopped
Cracked pepper and pink salt, adjust as you mix
8 or 9 oz box of noodles
1. Boil noodles in water
Once noodles are almost done, scoop out one cup of water from the pot and set aside. Drain noodles and pour back into the pot.
2. Add all of the rest of the ingredients into the pot and stir
If it's super creamy, add in water. Start with adding 1/2 cup and then go from there. Taste as you go to determine the desired amount of water. Enjoy!