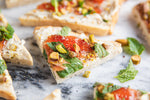 All the flavor, none of the fuss. This gourmet-tasting toast can be assembled in only five minutes from five simple ingredients. Perfect for a quick breakfast or afternoon snack!  Recipe from our friends at Purple Carrot.
Serves: 4
INGREDIENTS
4 slices sourdough bread 
¼ cup pistachios 
¼ oz fresh mint 
4 oz Treeline® Cashew Cream Cheese
2 oz strawberry preserves
Pepper to taste
DIRECTIONS
Step 1- Prepare the toasts
Toast the sourdough bread. Roughly chop the pistachios. Pick and roughly chop the mint leaves. Spread cream cheese on each slice of toast and top with strawberry preserves, chopped pistachios, and chopped mint leaves. Sprinkle with pepper.