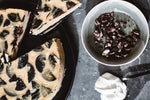 From Unbelievably Vegan - a cookbook by Charity Morgan. 
This recipe takes advantage of cashews' natural sweetness and turns them into a sublime dessert. Maple syrup sweetens the filling, and pairs perfectly with rich dark chocolate cookies for a classic cookies 'n' cream taste. Be prepared to make it again—it will become your most requested treat!
MAKES ONE 8- OR 9-INCH CHEEZECAKE
FOR THE CRUST
24 vegan chocolate sandwich cookies
5 tablespoons plant-based butter, melted
FOR THE FILLING
8 ounces Treeline Plain Cream Cheese
2 cups raw cashews, soaked and drained
2 cups unsweetened, unflavored plant-based milk
1 cup pure maple syrup
2 tablespoons arrowroot powder
2 teaspoons vanilla extract
12 vegan chocolate sandwich cookies, coarsely chopped
INGREDIENTS
Preheat the oven to 350°F.
MAKE THE CRUST: In a food processor or blender, process the cookies to fine crumbs. Transfer to a bowl and drizzle the melted butter around the sides of the bowl, using a fork to stir until the crumbs are all moistened.
Transfer the crumbs to an 8- or 9-inch springform pan and evenly spread across the bottom and up the pan's sides. Use the bottom of a glass or measuring cup to compress the crumbs. Wrap the outside of the pan in aluminum foil to prevent leaks. Bake for 10 minutes to allow the cookie crust to firm up. Remove from the oven and cool completely. Do not remove the foil wrap.
MAKE THE FILLING: In a high-speed blender or food processor, combine the cream cheese, drained cashews, milk, maple syrup, arrowroot powder, and vanilla and process until smooth. Pour the batter into a medium bowl. Fold in the chopped cookies.
Pour the batter into the crust. Place the springform pan in a roasting pan and pour enough hot water into the pan to reach halfway up the sides of the springform (this helps prevent cracking). Bake until the cheezecake is firm and set, 50 to 60 minutes.
Remove from the water bath and cool completely on a wire rack, then chill in the refrigerator for at least 5 hours, or up to overnight. ENJOY!