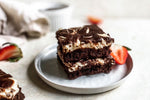 This recipe layers goat cheese cheesecake with fluffy chocolate brownies to add nuanced flavor in this unexpected combination of two classic dessert favorites. 
Brownie Ingredients
3 tablespoons finely ground flaxseed meal
6 tablespoons water
⅓ cup granulated sugar
¼ cup cashew butter, or other nut butter
¼ cup + 1 tablespoon dairy free milk, divided
½ cup + 2 tablespoons cocoa powder
¼ teaspoon salt
¼ teaspoon baking powder
1 teaspoon vanilla extract
½ cup fine, blanched almond flour
1 tablespoon coconut flour
Cheesecake Ingredients
8oz Treeline Dairy-Free Original Goat Cheese
3 tablespoons granulated sugar
1 teaspoon cornstarch
Instructions
In a medium bowl, combine the flaxseed meal and water, and let it sit to thicken for 5-10 minutes. Preheat oven to 300 degrees Fahrenheit and line an 8x8 inch pan with parchment paper.

To the flaxseed mixture, add the sugar, cashew butter, ¼ cup milk, cocoa powder, salt, baking powder, vanilla, almond flour, and coconut flour. Mix until fully combined, then remove 5 tablespoons and place in a separate bowl with 1 tablespoon milk. Add the rest of the brownie batter to the prepared pan and spread evenly.

Make the cheesecake by mixing the goat cheese, sugar, and cornstarch. Spread in an even layer on top of the brownie layer. Swirl the remaining brownie batter into the cheesecake layer. Bake for about 25 minutes, cool, and refrigerate until set. Enjoy!