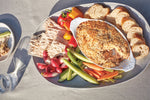 This recipe is featured in Unbelievably Vegan - a cookbook by Charity Morgan. 
This hot and bubbling crabby-ish dip is full of the flavors of the Chesapeake Bay. Combing crab-like jackfruit with creamy Treeline Cream Cheese and savory herbs and spices lends to a delicious plant-based dip that pairs perfectly with crackers and veggies. Oh, and it's a healthful source of vitamin C, potassium, and dietary fiber, too—so dip away!
SERVES 6 TO 8
Ingredients 

2 (14-ounce) cans young (green) jackfruit, drained
1 cup TREELINE Plain Cream Cheese
½ cup plant-based mayonnaise
3 scallions (green and white parts), sliced
Zest and juice of ½ lemon
1 tablespoon nutritional yeast
1 tablespoon vegan Worcestershire sauce
2 teaspoons seafood seasoning (such as Old Bay)
2 teaspoons hot sauce 
1 teaspoon garlic powder
Fine pink Himalayan salt and ground black pepper
½ cup panko bread crumbs
Crackers, crostini, or tortilla chips, for serving
Preheat the oven to 375°F.
Instructions

Put the jackfruit into a bowl. Using two forks or your hands, shred the larger pieces until the jackfruit has the texture of shredded lump crabmeat; set aside.

In another bowl, combine the cream cheese, mayonnaise, two-thirds of the sliced scallions, the lemon zest and juice, nutritional yeast, Worcestershire sauce, seafood seasoning, hot sauce, garlic powder, and season with salt and pepper. Mix well. Fold the jackfruit into the cream cheese mixture and transfer to a 1-quart baking dish. Sprinkle the bread crumbs on top.

Bake for 35 to 40 minutes, or until the dip is bubbly and the bread crumbs are golden.

Allow to cool for 5 minutes. Garnish with the remaining sliced scallions and serve with crackers. Enjoy!