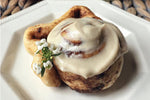 This recipe for cinnamon buns is a treat for any special morning but we especially love creating bunny eared buns for Easter brunch. Creamy cream cheese frosting tops a fluffy dough laced with cinnamon swirl for a sweet breakfast treat that everyone will love! 
Ingredients:
Dough 
Mix 2 and 1/4 tsp dry active yeast in 1 cup warm (about 110F) plant milk. 
Let sit 5 minutes, then add:
3 Tbs sugar 
3 Tbs melted coconut oil
2 cups flour 
a pinch of salt. 
Cinnamon Filling
2 Tbs cinnamon 
6 Tbs melted coconut oil or vegan butter
1/4 cup sugar. 
Cream Cheese Frosting 
One 8 oz. Container of Treeline Plain Cream Cheese 
1/2 cup powdered sugar 
1 tsp vanilla extract 
2 Tbs plant milk 
Instructions
Make the cinnamon filling my mixing ingredients with a rubber spatula. Set aside. 
For the dough ... 
Mix 2 1/4 tsp dry active yeast in 1 cup warm (about 110F) plant milk. Let sit 5 minutes. 
In a stand mixer, add yeast mixture, sugar, coconut oil and salt and mix with a wooden spoon or a dough hook in your stand mixer. Add spoonfuls of flour until the dough comes together and is smooth, not sticky. Let rest on a floured surface for 30 minutes. 
On your well floured surface roll out your dough into a rectangle (about 1/2 inch thick). 
Spread your cinnamon filling onto the dough with rubber spatula. 
Carefully roll the dough like a log and slice into 1 inch rounds. If you're making the bunny shape, unroll a bit to shape the ears. Place them on a parchment lined baking dish. 
Let rise 30 minutes and bake at 350 F until golden (about 20-25 minutes).
While they are baking, whip up the cream cheese frosting, made with Treeline plant-based cream cheese. 
Let cool and top with cream cheese frosting. Enjoy warm!