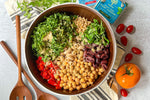 This is the only pasta salad recipe you need this summer. Hearty and packed with flavorful veggies and creamy goat cheese, it's perfect as a simple weeknight dinner or side dish for a BBQ.
Pasta Salad
SERVES 6
6 servings pasta of choice, cooked and cooled
12 oz jar fire roasted red peppers, chopped
14 oz chickpeas, drained
3 cups arugula, chopped
1/2 cup kalamata olives, halved
10-12 large basil leaves, chopped
1/4 cup pine nuts, toasted
4 oz Treeline Garlic & Basil Diary-Free Goat Cheese
Salt and pepper, to taste
Dressing
1/4 cup red wine vinegar
2 tbsp cold pressed olive oil
1/2 tsp dijon mustard
1/2 lemon, juiced
1/2 tsp dried parsley
1/2 tsp dried oregano
1/2 tsp salt
1/2 tsp garlic powder
1 tbsp nutritional yeast
Add all ingredients for the salad, except goat cheese, to a large bowl. Add the ingredients for the dressing to a blender and blend for 10-15 seconds until smooth and emulsified. Pour the dressing over the salad and toss to combine. Use a fork to add small chunks of the goat cheese to the salad. Optional to toss again to  coat the ingredients with goat cheese for a creamier salad. Store in fridge for up to 4 days.