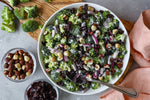 Fall calls for a different kind of salad and this one has it all! Crisp broccoli, tart cranberries, toasted hazelnuts & the best creamy dressing to tie it all together. Created by Caitlin @kalefornia_cravings, give it a try and let us know what you think!
INGREDIENTS
Recipe serves 4 people

2 large heads of broccoli (about 5-6 cups)

1 cup dried cranberries

1/3 cup red onion, sliced thin (or to taste)

1/3 cup hazelnuts

1 package Treeline Salt & Pepper Soft French Style Cheese

¼ cup maple syrup

¼ cup apple cider vinegar

2 Tbsp almond milk (or more depending on how thin you want the dressing)
DIRECTIONS
Whisk your cheese, maple syrup, apple cider vinegar and almond milk together in a bowl then set it aside. (You may want to add more milk if you prefer a thinner dressing.)

Next preheat your oven to 375 degrees and line a baking pan with parchment paper. Spread your hazelnuts out on the pan and toast them in the oven for 5 minutes. Set them aside and cut them in half once cooled.

Then chop your broccoli into bite-size pieces and add them to a large bowl. Add your dried cranberries, onion and hazelnuts and pour your desired amount of dressing over the top. Toss the salad until everything is fully coated.

Serve immediately or let your salad chill in the fridge for 10-15 minutes before serving.
Enjoy!