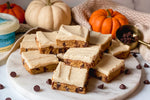 Fall is here and these Chewy Chocolate Chip Pumpkin Cookie Bars with Vegan Cream Cheese Frosting are the PERFECT plant-based treat to celebrate Halloween and have some fall fun in the kitchen! 
Ingredients
Chewy Chocolate Chip Pumpkin Cookie Bars 
makes 36 bars

• 1/2 C coconut oil, melted
• 1/2 C butter, melted
• 1/2 C cashew butter or almond butter
• 1 C coconut sugar (or brown sugar)
• 1 C pumpkin puree (not pumpkin pie filling)
• 1/3 C pitted medjool dates, soaked in hot water until very soft (alternatively can
use date paste or molasses)
• 1 TBSP vanilla extract
• 3 C all purpose flour (gluten free if desired)
• 1 tsp baking soda
• 1 TBSP arrowroot powder or cornstarch
• 1 TBSP pumpkin pie spice
• 1 tsp salt
• 1 C vegan dark chocolate chips

Vegan Cream Cheese Frosting

• 16 oz Treeline vegan cream cheese
• 4 oz vegan butter, softened
• 1 tsp vanilla extract
• 1/2 tsp cinnamon
• 1/2 tsp salt
• 2-3 C powdered sugar, depending on desired sweetness
Equipment Needed
• 18" x 12" rimmed metal baking sheet
• electric mixer
• rubber spatula
Instructions
Start by lining a large 12" x 18" metal baking sheet with aluminum foil and lightly spraying with oil. You could also use a slightly smaller metal baking sheet for thicker bars.
Add your wet ingredients to a bowl and mix well to combine. Beat for 1-2 minutes until silky smooth.
Once your dry ingredients are added, mix just until combined, being sure not to over- mix. Gently fold in chocolate chips.
Spread into your lined baking sheet and press into an even layer. I like to flatten with lightly oiled hands, or with the flat side of a metal spatula. Sprinkle with additional chocolate chips if desired and slide into your preheated 350 degree oven. Be prepared for your house to smell amazing.
Be sure not to over-bake these bars, you want them fudgey! 18-22 minutes should be perfect and you'll know when they're done if a toothpick inserted in the center comes out mostly clean.
Let the bars cool completely before topping with your freshly whipped-up frosting. The texture and taste of this Treeline cream cheese frosting is to die for - you'll definitely be licking the spatula! Practice your very best self control (or don't) and spread with an even layer of frosting. Place back into the fridge and chill for at least 2 hours.
These bars taste their very best when they're served cold, so pull them out of the fridge right before your halloween party starts. Enjoy!