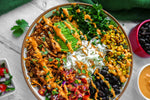 Hello loaded burrito bowl! Filled with jackfruit carnitas, beans and ALL the toppings, the star of this very tasty show is hands down the Creamy Chipotle Sauce. It's smoky, spicy, creamy and just a little bit tangy ... you'll want to start topping everything with it! 
FOR THE CREAMY CHIPOTLE SAUCE 

1 container (6oz) Treeline Chipotle Soft French Style Cheese
2 chipotle peppers (from a can)
¼ cup water
2 tbsp lemon juice
1 medium garlic clove
1 tsp sea salt

Combine all the ingredients together in a blender and pulse till smooth and creamy. Set aside. 
FOR THE JACKFRUIT 

1 can (20oz) young jackfruit in brine, drained and chopped
1 medium shallot, chopped
3 medium garlic cloves, minced
1½ tbsp soy sauce
1 tbsp brown sugar
1 tbsp neutral oil
1 tsp each cumin, coriander, chili powder, dried oregano and smoked paprika
½ tsp sea salt
In a skillet heat up the oil then add the shallots and garlic and sauté, stirring frequently, until golden and fragrant, ~ 3-4 mins.
Add the jackfruit, soy sauce and sugar and continue cooking until all moisture has evaporated and the jackfruit begins to get crispy, ~8-10 mins.
Add the spices and salt and continue cooking until the jackfruit is nice and caramelized, ~3-4 mins. Remove from heat.
BUILD THE BOWL 
Start with basmati rice, black beans and the jackfruit carnitas. Then add toppings of your choice; we used charred corn, olive oil massaged kale, pico de gallo salsa and avocado. Drizzle liberally with the chipotle sauce and dig in!!