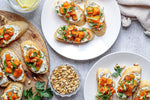 This seasonal twist on classic bruschetta features butternut squash paired with our creamy dairy-free Garlic & Basil Goat Cheese for a flavorful fall appetizer. A great option for a savory snack all autumn long, and especially as a starter for your plant-based Thanksgiving. 
Ready in: 45 min
Serves: around 6
Ingredients
1 medium butternut squash
3 tbsp olive oil, divided
1 tsp kosher salt
½ tsp black pepper
¼ cup pine nuts
2 packages (8 oz.) Treeline Dairy-Free Garlic & Basil Goat Cheese
3 tbsp finely chopped fresh parsley, divided
1 baguette or Italian bread loaf
6 large basil leaves, thinly sliced
2 to 3 tbsp agave nectar
Instructions
Preheat oven to 400 degrees F. Peel and cut butternut squash into 1 cm cubes (around 5 ½ cups cubes). Line a large baking tray with parchment paper. Place cubes on tray and drizzle with 2 tbsp olive oil, and toss. Spread squash out in a single layer on tray. Sprinkle evenly with kosher salt and black pepper. Place tray into oven and roast for 15 min, toss, and bake another 10 to 15 min or until squash is tender and starting to get lightly golden in areas. Remove tray from oven.
Meanwhile, toast pine nuts in a small pan over medium heat, stirring often, until lightly golden brown. Transfer to a plate to cool. Add goat cheese to a bowl along with 2 tbsp chopped fresh parsley, and stir. Cut loaf diagonally into 1 cm thick slices. Lay out slices on a baking tray and brush with remaining 1 tbsp olive oil. Place tray into oven to toast for 5 to 7 min, then remove from oven. Once cooled for a couple minutes, spread herbed goat cheese on slices and transfer to a serving platter. Top with butternut squash. You can serve remaining squash on the side.
Top bruschetta with remaining 1 tbsp fresh parsley, basil and toasted pine nuts. Drizzle agave nectar, to taste, on bruschetta just prior to serving.