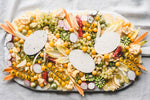 Want to learn how to make the perfect plant-based platter for your Friendsgiving feast? A vegan cheese board, loaded with bountiful produce is a surefire crowd pleaser for *any* occasion! Bonus, it is healthier than a cheese and charcuterie platter and a great way to ease into heavier meals.
Enjoy these 6 tips and advice for crafting a vegan cheese board that is perfect for sharing (or showing off) during the holidays, from Monique of Bee the Love. 
1.
GO WITH THE FLOW
Firstly, crafting a vegan cheese board requires a stellar surface. I recommend starting with a large wooden board, ceramic platter, or even marble. The possibilities for surfaces are endless though, so choose whichever makes you happiest!
Decide on a general pattern and then go with the flow. For example, with the board featured here I started with an "s" shape. However, other options are an "x" pattern, diagonal rows or lines, a large spiral… you name it. If you can dream it, you can do it!
2. GO BIG OR GO HOME
In other words, start with larger focal points first. Then go smaller!
Start with your cheese. Lately I am impressed with Treeline's Dairy-Free Goat Cheese. It's slightly tangy, yet smooth and creamy, and fluffy. I think some vegan cheeses can be a little too tangy and fermented but this one hits all the right notes. I know I'll be reaching for it again. Plus this "goat cheese" comes in original, blueberry, or garlic & basil. I can honestly say, I'm not sure which is my favorite yet. Because of this, I used all three for this board haha.
Afterwards, place larger chunks of fruit or veggies (or even whole ones), then add smaller items—such as sliced apples, delicious berries, seasoned nuts or seeds, or even dried fruits. Not only will it help to fill in the gaps, but it will also make the board appear more abundant when there is no surface peeking through.
3.
COLOR YOUR WORLD
You know the saying, eat the rainbow? To eat the rainbow translates to eating fruits and vegetables of different colors. That said, produce is beautiful. When so many plant based alternatives range in color on a brown scale why not focus on the brighter colors that nature provides?
In other words, let's aim for vibrant, enticing colors! Not only will it be easy on the eyes, but it will be rich in vitamins and minerals too. Therefore, not only will it be better for your board, but it will be better for your well-being too. Eating a variety of colors increases your intake of various nutrients to benefit different areas of your health!
4.
CUT IT OUT
Have fun slicing and dicing and cutting fruits and veggies into shapes! There are tutorials that are super useful for cutting kiwis into zig zaggy forms, or for fanning out slices of apples ever-so-perfectly. Another option is to use tiny cookie cutters to slice fruit into exciting shapes! You can really cut as simply or as elaborately as you like, depending on how much time you have and your patience!
5.
THINK OF IT AS A PLAYGROUND FOR YOUR TASTEBUDS
One of my biggest tips for deciding which supplemental ingredients to add is to think about texture as much as flavor! When assembling, think about juicy versus crispy, crunchy versus tender, sweet versus tangy… you get the picture. It makes the overall experience of looking and eating all the more engaging and fun! So, enjoy the process! Like anything else, keep it exciting.
After all, conversing together, especially over a delicious spread, is a great way to make memories! You'd be surprised how tasty and unique fruits and vegetables are in comparison to each other. It's truly a treat.
6.

 

THE INSIDE SCOOP
Whether you focus on crackers or endives, celery, sliced carrots or halves of radishes, they all make great vehicles to transfer the softer goodies. Anything goes as long as you have options to help scoop up those yummy "cheeses" or spreads! And of course, you can keep spoons and knives nearby, but it is much more interactive with freshly cut fruits and veggies!
In the end, the most beautiful spreads are the ones that are easy to share and enjoy!