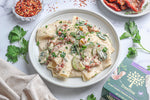 Loading up on ALL the fresh veggies with zucchini, spinach, shallots, parsley, thyme and sage. Paired with our Herb Garlic Soft French-Style Cheese, this pasta dish is a comforting cheesy recipe that's also healthy! 
Try out this recipe for Creamy Zucchini & Spinach Lasagna Pasta by Janet of @janetsmunchmeals and let us know what you think!
Ingredients
8 sheets oven-ready lasagna noodles

2 tsp olive oil, divided

1 ½ medium zucchinis

½ cup sun-dried tomatoes (marinated type)

1 medium shallot

2 cloves garlic

¼ tsp kosher salt

½ tsp black pepper 

2 cups vegetable broth

2 cups (packed) baby spinach

1 tbsp flat-leaf parsley, finely chopped

2 to 3 sprigs fresh thyme, stems removed

3 to 4 fresh sage leaves, whole or thinly sliced 

Red chili flakes, for serving
Shop the Product
Instructions
1. Bring large pot of salted water to boil and cook the noodles in two batches until al dente. The first batch can be transferred to a plate brushed with some olive oil to prevent sticking. Reserve 1 cup of pasta cooking water.
2. Meanwhile, preheat a large pan over medium heat. Trim ends off zucchini, slice lengthwise, then crosswise to make half-moon shapes. Add zucchini and 1 tsp olive oil to pan. Cook 3 to 5 min, flipping halfway, until just tender. Transfer zucchini to a plate. 
3. Thinly slice sun-dried tomatoes and finely chop the shallot and garlic.
4. Add shallot and garlic to the pan used for the zucchini, with remaining tsp olive oil. Cook for 2 min, then add the salt, pepper, and vegetable broth.
5. Bring to simmer then gently whisk in Treeline Herb Garlic French-Style cheese until smooth.
6. Add baby spinach, sun-dried tomatoes, parsley, thyme, and sage. Cook 1 min, stirring gently.
7. Add cooked pasta, stir, and add ½ to 1 cup of the pasta cooking water as desired, to thin the sauce. 
8. Serve and top with red chili flakes if desired.