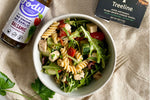 Enjoy the best of the season with this hearty chopped salad, made in collaboration with Dominque of @consciously.vegan and Fody's salad dressing. We love combining seasonal greens and veggies with rotini pasta and our Aged Artisanal Cheese to level up a salad into a light but filling warm weather meal. 
Serves 2
2 cups cooked gluten-free fusilli Pasta
10 cherry tomatoes, sliced
1

Treeline Cracked Pepper Aged Artisanal Cheese

wheel, chopped into 1" pieces 
1/2 cup roasted red peppers, chopped
20 olives, sliced 
1 cup Cucumber, chopped
2 cups arugula
1/3 cup parsley , chopped 
Salt and pepper – season to taste
1 cup Fody's salad dressing 
 Add all ingredients into a large mixing box, cover in salad dress and toss with tongs until well combined. Dig in! 
Shop the Product