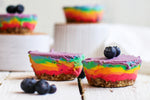 A recipe that only looks complex! Serve up these festive and tasty no-bake mini cheesecakes to celebrate Pride month.  These eye-catching cuties will win over your taste buds and wow your friends! 
Time: overnight + 30 minutes
Serves: 12 mini cheesecakes
Ingredients:
Cheesecake Filling
• 5 tubs Treeline Plain Cream Cheese (room temperature)
• 1 cup powdered sugar
• Juice of 1 lemon
• 1 1⁄2 tbsp vanilla extract
• 1⁄2 cup melted coconut oil
• Food coloring
Crust
• 2 cups walnuts
• 2 cups almond
• 3 1⁄2 cups pitted dates
• 1⁄2 cup melted coconut oil
• 1 tbsp sea salt
• 1 tsp ground cinnamon 
Shop the Product
Instructions:
1. Take a cupcake tray and cut long pieces of parchment strips to put in each one so the cheesecakes can be removed easily. Spray the insides of the pan with coconut oil spray and then add the parchment strips.
2. Mix all of your cheesecake crust ingredients until well combined and texturally like "wet sand" in a food processor. It should stick together when you squeeze it between your palms.
3. Place just enough of the crust mixture to cover the bottom of each cupcake section and pack down firmly with your fingers.
4. For the filling, pulse all of your ingredients together in a food processor besides the food coloring. Then equally separate the filling into 6 bowls.
5. Add food coloring to each bowl, 1 red, 1 orange, 1 yellow, 1 green, 1 blue, 1 purple, and mix well to combine.
6. Layer the fillings on top of the crust starting with red and going in order, ending with purple on the top.
7. Place these in the freezer uncovered overnight to set and then remove and serve after 5 minutes of thawing on the counter.