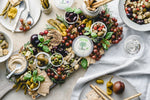 While we have never met a snack board we didn't like, this plant-based antipasto platter from Monique of Bee the Love is our go-to for a summer light dinner a or backyard snack among friends. 
Start by whipping up this easy recipe for Marinated Olives with Treeline Cheese and then follow Monique's tips for building out your perfect Italian-inspired board. 
Marinated Olives with Treeline Cheese 
Ingredients 
1/4 cup peppers

1/4 cup kalamata olives

1/2 cup stuffed green olives

1/2-1 wheel Classic Aged Artisanal Treeline Cheese, cubed into small pieces 

1/2 cup EVOO or enough to coat the ingredients from drying out

Seasonings and herbs (oregano, thyme marjoram, red pepper flakes)

1 tsp garlic minced 

Salt and pepper to taste
Instructions 
Add all to a medium mixing bowl and stir to coat and season to taste.

Allow to marinate for at least half an hour. When ready, share and enjoy!
Shop the Product
Tips for Creating the Perfect Antipasto Platter
Start with a large surface like a wooden board or piece of slate. Anything that can be the vessel for all the delicious things is a great way to start!

Add in the star of the show (aka Treeline Cheese) for structure.  They act as focal points in contrast to the business of the add-ons!

Add little cups or jars to hold things, especially for liquids (like the marinated olives with Treeline Cheese!) It also adds depth and height to the overall presentation that is visually pleasing.

Fill in gaps with smaller snacking items such as nuts, seeds, or dried fruits.  This also helps to make the board look even more abundant when there is no surface space peeking through.

Think about texture as much as flavor! When assembling, think about juicy versus crispy, crunchy versus tender, sweet versus salty, and so on and so forth. It makes the overall experience of looking and eating all the more engaging and fun!

Garnish with herbs to add green freshness! Herbs like rosemary are fantastic since they are a bit sturdier and can hold its own better than other herbs like basil.

Work within a color scheme to help draw the cohesiveness of the different elements.  Fun fact: Did you know Italians often make their food to resemble the colors of the Italian flag? (My Italian friend taught me that, and learned from his grandfather!) With that in mind I kept this antipasto board's theme red white and green!

A sign of a good platter is if people say it's almost too pretty to eat!

The best part is sharing!  So sit back, share many laughs, and cheers to delicious foods before the main course!  (After all, antipasto translates to "starter" in Italy!)