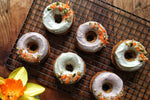 Hello, delicious! This recipe was whipped up by Andrea of
@sweet.in.nature
for Easter, but we're pretty sure these sunny treats would bless any brunch spread, all year round. We love taking advantage of sweet spring carrots and switching up the frosting to have strawberry and traditional glaze options. 
Carrot Cake Ingredients: 
(makes about 12 doughnuts) 
1 cup white flour
1 cup oat flour (to make this at home, pulse oats in a food processor or blender) 
2 tsp cinnamon 
1 tsp ginger powder 
1 tsp baking powder 
1/2 tsp baking soda 
Pinch of salt
3 flax eggs (1 Tbs ground flax seeds mixed with 3 Tbs water = 1 egg)
1/4 cup sunflower or olive oil
1/2 cup plant-based milk
1 Tbs apple cider vinegar
3/4 cup maple syrup 
2 cups shredded carrot
Instructions:
1. Mix dry and wet ingredients separately then combine them and gently mix in the shredded carrot.
2. Pour batter into greased donut pan or muffin tin and bake at 350 about 20-25 minutes. Doughnuts should be golden Let cool. 
Vanilla Cream Cheese Glaze: 
Strawberry Cream Cheese Glaze:
Mix all the ingredients in either glaze together and dip your doughnuts in! 
After glazing your doughnuts, it's time to decorate! Andrea's version includes crushed walnuts, shredded carrot and pumpkin seeds sprinkled on top.