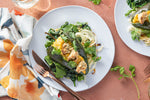 All the flavor, all the fun. This recipe takes a humdrum weeknight meal night and adds a bit of spice and a whole lot of yum. Created by our friends at Purple Carrot, we hope you give it a try! 
Ingredients
2 poblano peppers
1 onion
1 garlic clove
1 ear of corn
½ cup polenta
2 tsp turbinado sugar
5.5 oz coconut milk
2 oz Treeline® Cashew Cream Cheese
4 oz baby spinach
2 tbsp nutritional yeast
¼ oz fresh cilantro
1 tbsp + 1 tsp (2 tbsp + 2 tsp) olive oil
Salt and pepper


Instructions
1. Prepare the produce
Preheat the oven to 425°F. Add 2 cups (4 cups) water and the bouillon cube(s) to a medium saucepan and bring to a boil. Slice one side of each poblano pepper, from stem to bottom, without fully cutting peppers in half. Remove seeds and as much of the pith as possible. Peel and thinly slice the onion(s). Peel and mince the garlic. Cut corn kernels off the cob.
2. Make the sweet corn filling 
Once the broth in the saucepan is boiling, add corn kernels, polenta, sugar, just ¼ cup (½ cup) coconut milk, and a pinch of salt and pepper. Whisk until mixture comes to a boil, and cook until thickened, 3 to 4 minutes.
3. Stuff the Peppers
Place sliced onion in a baking dish and drizzle with 1 tbsp (2 tbsp) olive oil. Top with the sliced poblano peppers, and spoon sweet corn filling into each pepper. Dollop peppers with cashew cheese and bake, uncovered, until peppers are tender, 20 to 25 minutes. TIP: You may have extra filling left over depending on the size of your peppers.
4. Cook the creamed spinach
Heat 1 tsp (2 tsp) olive oil in a large skillet over medium-high heat. Add minced garlic and cook until fragrant, about 1 minute. Add just ½ cup (1 cup) coconut milk, baby spinach, nutritional yeast, ¼ tsp (½ tsp) salt, and a pinch of pepper. Cook until creamed spinach thickens slightly, 4 to 5 minutes. TIP: If you received a 13.5 oz of coconut milk, keep the remaining coconut milk for your own use.
5. Serve
Divide the creamed spinach between plates and top with sweet corn stuffed poblanos and roasted onions. Sprinkle with cilantro leaves and stems. Bon appétit!