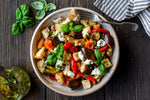 Side salads need not apply. This Roasted Veggie Panzanella Salad - made with flavorful garden vegetables, homemade croutons, and Treeline's Herb Garlic Soft French-Style Cheese - is the main event. The result is a healthy and hearty one-dish meal ideal for late summer dinners enjoyed outside. Developed for Treeline by Anisha of Upbeet Anisha, we hope you give it a try!
Serves 2
Prep time: 10 minutes 
Cook time: 30 minutes
Ingredients 
Herb Garlic Soft French-Style Cheese
Roasted Veggies
1 zucchini 

1 red bell pepper, sliced 

1 Chinese eggplant (substitute any eggplant of approximately the same size), cut in 1-inch cubes

15 cherry tomatoes, halved

½ tsp garlic powder

½ tsp black pepper 

1 tbsp olive oil 

¼ tsp salt 
Herb Croutons
2 cups of cubed artisan-style bread (i.e. sourdough, ciabatta, etc.)

1 tbsp olive oil 

1 tsp dried herbs (i.e. basil, oregano, etc.)

¼ tsp sea salt 
Basil Vinaigrette 
¼ cup extra-virgin olive oil 

¼ cup chopped basil 

2 garlic cloves, minced

½ tsp red chili flakes

¼ tsp black pepper

1.5 tbsp lemon juice 

salt to taste
Instructions
Preheat the oven to 400 F. 

Cut the veggies and toss with garlic powder, black pepper, olive oil, and salt. Place on a baking sheet and roast for ~ 20 minutes. 

Cut or tear bread into approximately 1-inch cubes. Toss with olive oil, herbs, and sea salt. Once the veggies are done, bake the bread for 8-10 minutes at 400 F until slightly crunchy. 

For the basil vinaigrette, simply add all ingredients to a jar and mix well. 

To assemble the panzanella, add bread and veggies to a bowl. Add vinaigrette to your liking. For optimal texture and flavors, let it sit in the vinaigrette for a few hours. But serving immediately is still delicious! Before serving, top with Herb Garlic Soft French-Style Cheese.