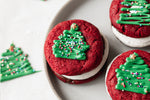 Get in the holiday spirit with these delicious plant-based cookies! The secret to a creamy non-dairy frosting is Treeline's Plain Cashew Cream Cheese, as perfect for baking as it is smeared on a bagel! 

This recipe was created for Treeline by Dani of @danilicousdishes. We hope you love it as much as we do! 
Red Velvet Cookies
1 stick plant-based butter, ½ cup, softened
½ cup organic cane sugar
¼ cup organic brown sugar
1 flax egg (1 tablespoon ground flaxseed + 3 tablespoons warm water)
1 tablespoon red food gel
1 teaspoon vanilla
1 ¼ cup whole wheat pastry flour or all-purpose flour
¼ cup unsweetened cocoa powder
1/2 teaspoon baking powder
½ teaspoon salt
Treeline Cream Cheese Frosting 
4 oz container Treeline Plain Cream Cheese room temperature
Half stick 1/4 cup vegan plant based butter, room temperature
2 cups powdered sugar 
1 tsp. vanilla
Pinch of salt
SHOP THE PRODUCT
Chocolate Glaze
1/3 cup dark chocolate chips
1/2 teaspoon coconut oil 
Directions
Pre-heat the oven to 350 degrees. Line a cookie sheet with a silicone mat (or grease lightly). In a large bowl, using a hand mixer or whisk, cream together the butter and sugar until light and fluffy, 2-3 minutes. Add in the flaxseed egg, red food gel, and vanilla and beat until combined.
Shift in the dry ingredients and gently beat until just combined.
Using a tablespoon cookie dough scoop or large spoon, scoop out the dough into 12 cookie dough balls. Place the cookie dough balls on the prepared cooking sheet and press down lightly (this helps them spread better).
Bake for 9-11 minutes or until the outside a lightly browned and the middle just set (the will continue to cook and harden as they cool). Let cool completely.
In a small microwave bowl, add the dark chocolate chip and coconut oil and microwave, on 50% power, in increments of 45 seconds, until fully melted. Add a dollop to the bottom side of each cookie and spread it out so it covers the whole Botton. Allow the chocolate to set. 
For the frosting, add the plant-based butter to a stand-mixer (or using a large bowl and a hand mixer). Mix until light a fluffy, 2-4 minutes. Add in the Treeline cashew plain cream cheese and beat for another 2-3 minutes or until light and fluffy and fully combined with the butter (scraping down the sides as necessary). Add in the vanilla and pinch salt. Finally, add in the powdered sugar in 3 increments, beating until smooth and creamy. Add frosting to a piping bag with a regular round tip or a ziplock bag with a corner cut off. Top each cupcake with a dollop of frosting.
Spread frosting on half the cookies. Top each frosted cookie with another non-frosted cookie. Gently press together.
Serve and enjoy!