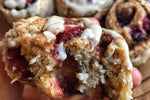 Ingredients
1 cup whole wheat flour
1 cup all purpose flour 
2 Tbs ground flax
3 Tbs cane sugar
1 Tbs baking powder
1/4 cup melted coconut oil, plus more for spreading
3/4 cup plant-based milk, plus more for glaze
2-4 tbs Treeline Plain Cream Cheese
1 cup fresh cranberries
Maple syrup
Salt 
Instructions
Combine and mix the flours, ground flax, sugar, and baking powder.
Drizzle 1/4 cup melted coconut oil and work in with your hands. 
Add 3/4 cup plant milk and form the dough.
On a floured surface
roll
out the dough into a rectangle about a 1/4 inch thick. Brush in some melted coconut oil, sprinkle desired amount of brown sugar and
cinnamon
. Scatter on some fresh cranberries.
Carefully
roll
 the
 dough to keep cranberries in place. Slice the
rolls
and place them in a baking dish.
Bake at 400 till golden (about 20 minutes). 
While those are baking, make the cream cheese glaze by heating
Treeline Plain Cream Cheese
, maple syrup to taste, and plant-based milk. Then drizzle over warm rolls!
SHOP THE PRODUCT