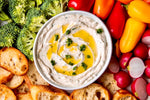 Whip up this easy zesty dip that combines Treeline Goat Cheese and Cream Cheese with lemon and fresh herbs for a bright, savory snack or appetizer. 
Ingredients:
1 (4 oz) package Treeline Garlic & Basil Dairy-Free Goat Cheese

¼ cup (2 oz) Treeline Dairy-Free Plain Cream Cheese

1 clove garlic, minced

The juice from half of a lemon

1 tbsp fresh parsley

1 tbsp fresh thyme leaves

Freshly ground black pepper
Instructions:
Add all ingredients to a food processor or blender. Process/blend to combine.

Spread whipped cheese in a shallow bowl, then top with a drizzle of olive oil and extra herbs. Serve with toasted bread and seasonal veggies or fruit.