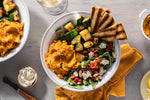 Ingredients:
8 oz carrots
1 zucchini
2 garlic cloves
1 lemon
1 tbsp za'atar seasoning
13.4 oz cannellini beans
2 tbsp tahini
1 grilled flatbread
4 oz baby arugula
2 oz Treeline® Scallion Soft French Style Cheese
1 oz red peppadew peppers
3 tbsp olive oil
Salt and pepper
1. Prepare the vegetables
Preheat oven to 425°F. Peel the carrots and slice on the diagonal. Trim and roughly chop the zucchini. Peel the garlic. Halve the lemon.
2. Roast the carrots
Transfer the sliced carrots to a baking sheet and toss with 2 tsp olive oil, just half the za'atar, and a pinch of salt and pepper. Roast until tender and blackened in spots, about 14 to 16 minutes.
3. Cook the vegetables
Place a large nonstick skillet over medium-high heat with 1 tsp olive oil. Once hot, add the chopped zucchini and cook, tossing occasionally, until tender and charred in places, about 3 to 5 minutes. Sprinkle vegetables with salt and cover with foil to keep warm.
4. Prepare the hummus
Drain and rinse the cannellini beans. Add the roasted za'atar carrots, garlic, just 2 tbsp lemon juice, just half of the beans, tahini, and ½ tsp salt to a food processor. Pulse to combine, then with the motor running, drizzle in 2 tbsp olive oil and 2 tbsp water, blending until smooth. Taste the roasted carrot hummus and adjust seasoning with salt.
5. Finishing touches
Pop the flatbread into the oven to toast, about 5 to 7 minutes. Remove from the oven and cut into 8 triangles. Add the arugula to a medium bowl and toss with any remaining lemon juice and a pinch of salt and pepper.
6. Serve
Spread the roasted carrot hummus on the bottom of large shallow bowls or plates. Top with arugula salad, sautéed zucchini, and remaining cannellini beans. Dollop bowls with Scallion Cashew Cheese and sprinkle with peppadews and remaining za'atar. Enjoy with warm flatbread. Enjoy!