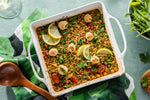 Ingredients:
2 scallions
¼ oz fresh parsley
4 garlic cloves
1 lemon
13.4 oz chickpeas
4 tsp vegetable broth concentrate
1 tsp dried oregano
4 oz grape tomatoes
1 tbsp red wine vinegar
¾ cup Israeli couscous
4 oz baby arugula
2 oz Treeline® Scallion Cashew Cheese
3 tbsp + 2 tsp olive oil
Salt and pepper
1. Prepare the vegetables and broth
Preheat the oven at 425°F. Trim and thinly slice the scallions. Pick the parsley leaves from the stems and chop the leaves. Peel and mince the garlic. Zest and halve the lemon. Drain and rinse the chickpeas. In a small saucepan, combine 2 cups water, vegetable broth concentrate, and dried oregano. Bring the vegetable broth to a boil.
2. Roast the tomatoes
In a baking dish, combine the sliced scallions, minced garlic, grape tomatoes, red wine vinegar, 3 tbsp olive oil, and a pinch of salt and pepper. Roast in the oven until the tomatoes blister and the scallions are charred, about 5 to 7 minutes.
3. Cook the couscous
Once the tomatoes are roasted, remove the baking dish from the oven and add the lemon zest, chickpeas, vegetable broth, and couscous. Stir well, and cover the baking dish with foil. Return the dish to the oven and cook until the couscous is tender, about 8 to 10 minutes.
4. Make the salad
In a large bowl, toss the arugula with just 2 tsp lemon juice, 2 tsp olive oil, and a pinch of salt and pepper.
5. Finish the lemony couscous
Once the couscous is ready, top with scoops of cashew cheese. Set the oven to broil on high. Taste the couscous and adjust seasoning with salt and pepper. Return to the oven and broil until the cheese is lightly browned on top, about 2 to 3 minutes.
6. Serve
Squeeze the remaining lemon juice over the baked couscous and sprinkle with chopped parsley. Serve family-style, straight from the baking dish with arugula salad on the side. Enjoy!