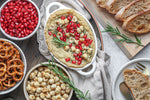 This decadent dip featuring Treeline's creamy goat cheese with rosemary, a pop of bright pomegranate seeds, and hazelnut crunch makes for the perfect holiday appetizer. Pair with a loaf of your favorite bread or pretzels and wow your guests with the beautiful composition and rich flavor. 
Ready in: 25 min
Serves: 8
3 packages (12 oz.) Treeline Dairy-Free Original Goat Cheese
2 tbsp olive oil
¼ tsp black pepper
¼ tsp garlic powder
1 cup hazelnuts
1 small pomegranate
1 wheat ciabatta loaf or baguette
2 cups pretzels
1 tsp finely chopped fresh rosemary
Preheat oven to 400 degrees F. Add goat cheese, olive oil, black pepper, and garlic powder to a medium-sized mixing bowl. Scoop mixture into an oven-safe baking dish, smoothing the top and drizzling with a bit of olive oil. Place into oven for 15 to 18 min until top is starting to get golden and crisp. Optionally, cook another 5 minutes for further crisp. Remove from oven to cool.
Meanwhile, lightly toast hazelnuts in a medium-sized pan on medium heat for around 5 minutes, stirring often, until lightly golden, then transfer to a plate to cool. Remove seeds from the pomegranate, discarding peel and membrane. Slice bread into 1 cm slices on a diagonal. Arrange slices onto a large baking tray and place into oven for 4 to 6 minutes until toasted. Coarsely chop the hazelnuts.
When baked goat cheese has cooled somewhat, top with some of the hazelnuts and pomegranate seeds, and sprinkle chopped rosemary on top. Serve with toasted bread, pretzels, and remaining hazelnuts and pomegranate seeds.