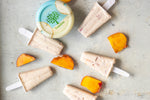 Summer calls for popsicles and this simple recipe is perfect for whipping up a cooling treat that kids and adults alike will love. Made with Treeline's Plain Cream Cheese, you can enjoy these decadent Peaches & Cream Popsicles, no dairy needed!
Ingredients
1 container @treelinecheese plain cream cheese

2/3 cup thick vegan yogurt 

1 tsp vanilla extract 

3 tbsp maple syrup 

3 peaches finely diced
Instructions
Add the first 4 ingredients to the blender and blend until smooth. Add the peaches and pulse a few times. Pour mixture into popsicle molds. Freeze until set, this took about 6 hours. Enjoy!