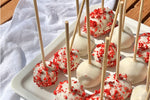 Meet the perfect dessert for a summer soiree. Vanilla cake with strawberry cream cheese frosting capped with white chocolate and freeze dried strawberries. It's a cold treat to beat the heat in a perfect bite-sized package. 
INGREDIENTS 
For the cake 
1 package vanilla cake mix (we used Simple Mills)
For the frosting 
1 tub Treeline Dairy-Free Strawberry Cream Cheese 
4 cups powdered sugar 
1/2 cup vegan butter 
For the topping ... 
2 cups vegan white chocolate
1 cup freeze dried strawberries, crushed 
INSTRUCTIONS
Mix cake batter and bake according to instructions. Let cool. 
Mix the frosting ingredients, layer over the cake and then form the mixture into balls. Freeze overnight. 
The next day, melt the white chocolate, insert a wooden stick and coat in the white chocolate. Dip in a bowl of crushed freeze-dried strawberries, set on a baking sheet lined with parchment paper, then return to freezer. 
Serve immediately!