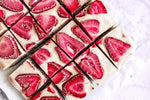 Ingredients
Crust
8 medjool dates⁠
1 cup nuts (we recommend a mix of hazelnut, pumpkin seeds, and walnuts)
1/4 cup coconut shreds
Filling:
1 container strawberry cream cheese⁠⁠
1/2 a block silken tofu ⁠⁠
A handful of fresh strawberries⁠⁠
1/4 cup oat milk⁠⁠
4 tbsp maple syrup⁠
Instructions
Crust
⁠Use a food processor to blend all together and press into a square pan.⁠
Filling
Blend all ingredients together in a blender then pour over the crust. Add more sliced strawberries on top. Freeze until firm and enjoy!
Recipe and photo by Abigail Wickenheiser from @veggie_trails